Foldable Large Containers (FLCs) are an ideal packaging solution by TCI that make it easier to move goods in a damage-free condition, ensuring it is safe and pilferage-free.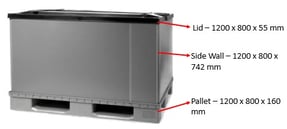 The robust design of FLCs comprise of a completely portable base pallet, top lid and four side walls. This allows to load and unload the containers from the vehicle conveniently with the help of forklifts.
With a double-wall sturdy structure that increases internal volume, these flexible collapsible high-density polyethylene (HDPE) frame containers enable quick installation and provide maximum protection to the products. FLCs also ensure load stability and are suited best where the cargo is fragile, small in size, in liquid state and needs to be delivered in bulk quantities.
These containers are widely preferred in the market since there is reduced cost in their transportation and carbon footprint is also lower. Additionally, Foldable Large Containers offer storage cost savings as these can be easily folded and arranged when empty.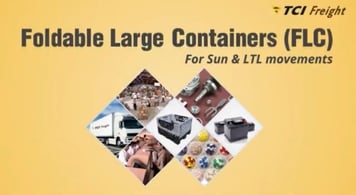 TCI Freight offers surface transport solutions through FLCs for sundry and LTL (Less than Truck Load) cargoes across industries - from automotive parts, lubricant oil, high value medicine to scientific small equipment, consumer electronic goods, etc.
FLCs are perfect to provide your cargo a secure journey to its destination!
Click on the image to watch a video.
#FoldableLargeContainer #FLC #Services #TCIFreight #LeadersInLogistics